FAQs On Care and Use: How to Unpack your Topper Pad or Pillow and Care and Use Instructions
Back to main FAQ directory page
Do you have any instructions for how I should unpack my topper pad or pillow and also care and use instructions for these memory foam producst as well?
1. Do you have any instructions for how I should unpack my topper pad or pillow and also care and use instructions for these memory foam producst as well?
Here are the manufacturer's instructions on opening your memory foam products and care and use instructions as well.
Unpacking Your Memory Foam Product
This Memory Foam Mattress Pad is made of the highest quality Visco Elastic Foam available. It has been folded, machine rolled and compressed for efficient delivery. This will not affect its performance, but it may require 24 to 72 hours to regain its full shape.
IMPORTANT Do not use scissors or any sharp object when removing the plastic cover. Exercise care and remove the plastic cover by hand. Gently pull the compressed product to unroll it. If you notice a slight odor when the package is opened, it is normal for "fresh foam" and will fade away in couple of days. Gently separate the layers by using a slow, steady, uniform pulling motion. Caution must be exercised, to avoid tearing the foam. Once unrolled, allow it to recover naturally before making up your bed. Simply center the Memory Foam Topper directly on top of the mattress and cover both with the same fitted sheet. If you have an overstuffed or pillow top mattress, you may require deep pocket sheets to cover the Memory Foam Mattress Pad.
Care and Use
Cleaning: Simply spot wash by hand with warm water and mild detergent. Rinse and gently wring out. Allow product to air dry prior to use. Do not machine wash or dry.
Safety - Fire safety precautions should always be followed. You may use an electric blanket, but be sure it is in good working condition and UL approved with no visible wear or frayed wiring.
My Hints for Airing out the Topper Pads
We tend to air our out new Topper Pads out in a spare room with the windows open for fresh air. One trick we have learned is that the Topper Pad seems to air out more quickly with a fan blowing on it. So we put the pad over a chair with the fan blowing on it, and turn the pad over in the morning to air out both sides equally. This takes care of the odor, for the most part, within a day or two and then it should be ready to go on your bed.
After you begin to use the Topper Pad, you can take care of any residual odor by airing it out in the same manner during the day and then putting the pad back on your bed at night. In our experience, this takes care of any such residual odor in a few days. Another option is airing the Topper Pad outside for a day or two. Many customers tell us this works well, but of course you need to be careful about any dirt or moisture outside that may damage the Topper Pad.
2. Is there any specific instructions on the type of foundation I should use with your memory foam mattress?
Using an appropriate foundation is important. The foundation should be firm and supportive. Many people are able to reuse their current foundation if it is still firm and supportive. If you are buying a new foundation, you may want to consider buying one from a local retailer, or online the Easy Fit or Easy Sleep are options, and you can find other more expensive slatted options if you search.
One thing to be aware of is that the mattress needs good ventilation. So we don't recommend using the mattress on a solid wood platform unless it has a slatted top or holes in it to allow the mattress to breath. If it doesn't have good ventilation, moisture may accumulate on the bottom leading to mold or other issues.
Similarly, we don't recommend using plywood over a foundation or box springs to firm it up unless you are willing to put in a lot of air holes in it (our suggestion is the holes be quarter sized and about 6 inches apart -- especially under the areas you tend to sleep on the bed).
Moisture build up that leads to this kind of mold issue isn't covered by the warranty since it is due to an inappropriate foundation and not due to any issue or defect in the mattress (if the foundation doesn't allow proper ventilation, this kind of problem could occur in any mattress -- innerspring, air, latex, etc -- and isn't due to any unique issues with regard to a foam mattress.)
---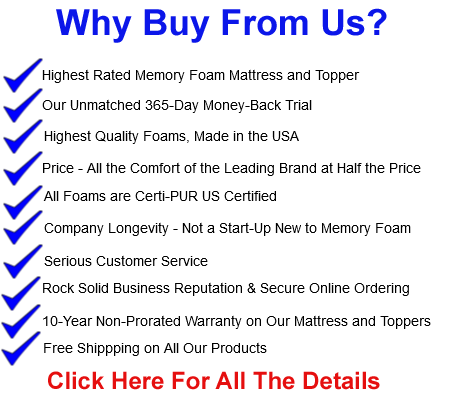 ---
What People Are Saying About Our Memory Foam Mattresses And Toppers:
---
"It's even better than we expected"
"My husband and I are thrilled with our Healthy Foundations mattress. We have had it through the winter and summer and find it perfectly comfortable in both hot and cold weather. We were afraid that the memory foam would be warm in the summer but that hasn't been the case at all. My husband has had severe back problems, to the extent that he was seeing a pain doctor and having back injections. I have suffered with hip pain for almost two years. My husband recently commented that he hasn't had back pain since we got our new mattress. My hip pain has also improved greatly. We are both so happy we found Healthy Foundation because we were not willing to pay the price to get a Tempur-pedic or Sleep Number Bed. We couldn't be happier with our decision."
Rose, Neenah, WI
August 5, 2015


---
"Superior To The Tempurpedic"
"We slept on a Tempurpedic mattress for years but were put off by the price it came time to replace it. The Memory Foam web presentation was informative and persuasive, so we switched. We've had the Memory Foam for three or four months, and it is superior to the Tempurpedic."
Craig, Cornwall Bridge, CT
August 8, 2015


---
"No more Back Pain!"
"We are very happy with our Healthy Foundations Mattress. We have tried several mattresses and this is the only one that eliminated waking up with a stiff/sore back or sore arms. Great purchase!"
Sleeping Well, MD
July 7, 2015


---
"I Love My Topper."
"I love the way it turned my too hard mattress into a comfortable place to be. For me it is especially helpful for joint areas. I couldn't live without it."
Dixie, Austin, TX
February 5, 2015