Looking For An Indian Restaurant, With Great Indian Food At A Great Price in Boulder, CO?
The Rebirth Of A Local Favorite: The Team Behind The Maharaja Now Brings You A New Indian Restaurant in Boulder -- Curry n Kebob. And Customers Are Loving Our "Good, Authentic Indian Food"
March, 2012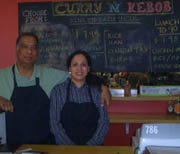 Zuned and his wife, Suhena
After being absent from the Boulder restaurant scene for a few years, Zuned Khan is once again serving up his unique take on Northern Indian and Banladesh cuisine that he had painstakingly refined at his former restaurants in Boulder and Louisville, the Maharaja.
Along with his longtime Chef, Mr. Singh, Zuned has reopened in a smaller, cozier space that offers delicious Indian food at suprisingly affordable pricing.
Unlike other Indian restaurants, all dishes are made to order -- so you don't get food that has been sitting around on a steam tray that has lost its moisture and flavor, or that may have a level of spicing that just doesn't suit you.
But don't worry, you don't have to wait and wait -- most dishes take just 10 - 15 minutes to be made to your desired level of spice.
There is a reason why, after just a few months Curry n Kebob has already earned 4 1/2 stars from Yelp (23 reviews). And how Curry n Kebob has garnered 74 reviews on Google + Local, with an average rating of 29/30 -- which on their scale, is rated as "Extraordinary to Perfection".
Their "secret sauces" is that while their prices are incredibly reasonable (almost all entrees less than $10), the attention to taste (making all food to order, preparing all spice combinations from scratch, etc.) and preparation is second to none.
So check out the menu at right. All items are available to both dine in and take out, with the exception of the daily specials that are available only as dine-in. For delivery just give us a call at (720) 328-4696.