Picking A Memory Foam Mattress
The Healthy Foundations Memory Foam Mattress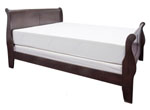 Finally, you don't have to compromise on comfort due to price.
We spent 6 months testing out memory foam mattresses to find one that has all the comfort of the "leading brand", but at about 1/2 the price.
Hard to believe? Check out the 4 1/2 star reviews, with 87% saying they would recommend the Healthy Foundations 10" Memory Foam Mattress to a friend, at our The Healthy Foundations 10" Memory Foam Mattress page.
And we are so sure that our mattresses will give you the relief from aches and pains, back pain in the morning, and tossing and turning that robs you of restful sleep that we are offering an unprecedented 365 day return policy on the mattress. So you can try for yourself for up to a full year to see if our mattresses help you rest better and feel rejuvenated in the morning. For more information, see The Healthy Foundations 10" Memory Foam Mattress page.
How to pick a memory foam mattress when there are so many options? I get confused myself with all the new memory foam mattresses on the market - from no name companies to now the likes of Serta and Sealy.
The best guidance I can give you is to tread cautiously - while all these memory foam mattresses may aspire and even look like the Tempur-Pedic, that doesn't mean they have the same quality of foams or sleep comfort.
Here's what I do when I look at a new memory foam mattress:
I consider the quality of the foam and the source. I ask what is the density of foam of the different foam layers used in the memory foam mattress, and also who manufacturers the foam and how long they've been making this particular grade of memory foam (although a retailer may not know this information - but they can certainly ask and get back to you with this).
Then I ask question about this specific memory foam mattress. How long they have been making this particular memory foam mattress, what type of use experience they've heard from customers (compression issues, sleep issues (hot, smelly, slow rebound that makes turning over difficult), too firm of memory foam, too soft of memory foam, etc), what type of return experience (how many returns over what time period - and make sure they have a good return policy),
Another area to ask about is warranty and return questions. What type of warranty comes with the mattress and what does it exactly cover (all prorated or just a portion of the period in the later years prorated and full payment in earlier years (and who pays for shipping if there is an issue and what will you have to do to prove a warranty problem), and do you need a new foundation for the mattress?
A related issue is whether they have a money back trial on the mattress. I've talked to lots of people that have gotten burned spending a great deal of money on a mattress they just end up not finding comfortable - and they can't return or can only exchange. I think a money back trial is really essential, espcially since a foam mattress may be such a different feel than your current bed. I've always offered this on any mattress I sell, and given the price of these type of mattresses you may want to steer clear of those that don't have a return policy. Make sure you understand the way the policy works and your total cost on a return - some places hit you up for return shipping both ways, a restocking fee, etc. that can make the return policy very expensive. The best policies are just ones that would require you to pay return shipping. But remember, it is important to really give these kind of beds a few weeks trial before deciding if you like it. I've found that people often need time to adjust to the feel of a foam bed, but once they do they really find it comfortable. A few weeks should be sufficient time to decide if the bed is for you.
I'm sure I'm forgetting a few things, but these questions will give you a good start.
If You Are Interested In A Memory Foam Mattress, Check Out Our 10" Memory Foam Mattress -- All Comfort Of The Leading Brand, At About 1/2 The Price*
We decided to chose our latest memory foam mattress purely on comfort. To do this we decided to put 6 different memory foam mattresses to the test with 300 real customers in order to find the one that really offered comparable comfort to the leading brand, but at about 1/2 the price*.
And after all the results were in, one mattress stood head and shoulders above the rest -- Our 10" Memory Foam Mattress . The quality and comfort of this mattress really made it stand out from all the other mattresses we tested, with our testers' ratings coming in at about 95% of that garnered by the leading brand. Overall, for example, our 87% of our reviewers said that they would recommend our 10" Memory Foam Mattress to a friend, and 89% checked that they found the mattress comfortable.
After reading our testers reviews, which you can read in full on our Memory Foam Mattress page, I feel so strongly about the quality and comfort of our memory foam mattress that we are offering an unheard of 365 day money back guarantee on our 10" Memory Foam Mattress . So if you are looking for a memory foam mattress, I hope you will check out all the information and 45 reviews that we have on our 10" Memory Foam Mattress .