Healthy Foundations Security and Privacy Policy
On this page: Security Information | Privacy Policy
Security
We are committed to making sure that our online ordering system is as secure as possible and that your private information is kept secure. In order to make our ordering and customer information secure, Healthy Foundations has:
1. Secure Socket Layers Encryption of all Data

Our secure ecommerce pages are hosted on One Shopping Cart, who use Norton Secure SSL Security, Powered by VeriSign, to ensure secure transmission of your information.

Secure Sockets Layer (SSL) software is the industry standard and among the best software available today for secure online commerce transactions. It encrypts all of your personal information, including credit card number, name, and address, so that it cannot be read as the information travels over the Internet. You will enter the secure checkout portion of our site when you click on the "Add To Cart" button. When the order form page loads into your browser (which may take a moment), you will be able to see that you are in a secure, encrypted mode, by noticing that in Internet Explorer a lock icon appears next to the address bar and in Firefox the security lock icon is at the bottom of the page. Once in this secure mode, your submissions to our site are encrypted and secure from outside users.

2. Our Shopping Cart And Payment Gateways Meets PCI Security Standards. To further ensure the security of your credit card information, I chose to use this particular shopping cart because it meets credit cards industry PCI standards for security. As does the payment Gateway we use for processing your credit card information (Authorizenet).

3. Credit Card Information Stored in Encrypted Form in our Database. All credit card information is stored in an encrypted form on Shopping Cart's Server. This means that even if someone broke into our server's files, they would only see gibberish if they were able to access the credit card fields of data. And we only have access to the the information for 24 hours, after which we no longer have access to it.

On the payment Gateway, the information is also stored in encrypted form and we never have access to the full credit card number.

4. A Policy Never to Share Credit Card Information nor Personal Information. As part of our shipping process, we do send our warehouse company your name, address information, and email address so they can ship your order and so you can recieve an automatic email with yoru shipment tracking information.

We never share with them your credit card information. Beside this, we don't share your personal information with any company, person or concern. We recognize that this is your private information, and in no circumstance will we ever sell or share your information with another company.
Privacy
Privacy has become an important issue in internet commerce - as it should be. We believe strongly that your personal information is your private information and should remain private. Below you will find the formal statement of our privacy policy. But we think it is important to let you know, without all the technical jargon, that we are committed to keeping your private information completely private.
Bottom line - we do not share our customers' information with anyone. As part of our shipping process, we do send our warehouse company your name, address, and email address so they can ship your product orders and have an automatic email sent with your shipments' tracking infromation.
But other than this use of your personal information, we don't share or sell any of our customers' personal and private information with anyone. We recognize that this is your private information, and in no circumstance will we ever sell or share your information with another company.
So if you give us your email information -- either as part of a sale or to get emailed information from us -- we never share it and only use it for the purpose of communicating with you directly. If you have given us your email in order to receive any information from us, all subsequent emails offer a way to unsubscribe from any further emails if you don't wish to continue to get emails from us for this purpose.
That being said, onto the formal statement of our privacy policy:
---
Healthy Foundations Privacy Policy
Healthy Foundations is committed to maintaining your confidence and trust, and accordingly maintains the following privacy policy to protect personal information you provide online.
Basic Confidentiality Policy

It is Healthy Foundations' policy that personal information, such as your name, postal and e-mail address or telephone number, is private and confidential. Accordingly, the personal information you provide is stored in a secure location, is accessible only by designated staff, and is used only for the purposes for which you provide the information (such as to reply to your request or to handle your complaint). For example, when you place an order online, your name, address, and other private information is used only for purposes of fulfilling your order. This information is never given or sold to any 3rd party for any purpose whatsoever and never will be.
If you also indicate on our sites that you would like to receive information about Healthy Foundations products or promotions, your personal information will be added to the Healthy Foundations mailing lists. You can indicate your desire when completing one of our contact forms or when you send us e-mail. All those entering online orders will automatically be added to our mailing list. If at any time you change your mind and would like to add or remove your name from the Healthy Foundations mailing list, or correct your personal information, please email us through our contact page. In addition, you emails sent after you have subscribed will have a link to unsubscibe from these so you can no longer receive them.
Types of Information collected
Healthy Foundations collects the following types of information: Name and email address information from those submitting contact forms, and billing information (name, address, phone, email, credit card information, etc) from those placing online orders. Also, our host system does collect anonymous information on our sites' visitors as described below (see No Computer Tracking of Identifiable Information). Whenever "sensitive information" (credit card numbers) are transmitted or received, it is done so in an encrypted manner to assure privacy. Healthy Foundations does not currently process its credit card orders electronically over the net. Instead, all credit card information is processed offline.
No areas on our website condition access on the disclosure of individually identifiable information, such as user-password protected areas.
Healthy Foundations uses Google Analytics to analyze traffic to this web site. Google Analytics does not create individual profiles for visitors. Unlike some tracking services Google Analytics does not have a database of individual profiles for each visitor. Google Analytics only collects aggregate data. For more information about Google Analytics privacy policy, please click here.
Google Adsense Ads Information
The DoubleClick DART cookie is used by Google in the ads served on our pages which display AdSense ads. When users click on an Adsense ad, a cookie may be dropped on that end user's browser. The data gathered from these cookies will be used to help AdSense publishers better serve and manage the ads on their site(s) and across the web.
Information about Google and the DoubleClick DART cookie:
* Google, as a third party vendor, uses cookies to serve ads on your site.
* Google's use of the DART cookie enables it to serve ads to your users based on their visit to your sites and other sites on the Internet.
* Users may opt out of the use of the DART cookie by visiting the Google ad and content network privacy policy.
We use third-party advertising companies to serve ads when you visit our website. These companies may use information (not including your name, address, email address, or telephone number) about your visits to this and other websites in order to provide advertisements about goods and services of interest to you.
Prospect Information Healthy Foundations does not directly solicit any prospect information (prospect information is information about one person submitted by someone else). The only type of prospect information we collect is: if a customer asks us to email information to someone else or if someone submits a different person as the party who a product is being shipped to. In any event, prospects have the same rights of access and correction as regular visitors to our website. With the possible exception of your own marketing (sending information that a person requested we send to a prospect), prospect information is only be used for the purposes for which it is submitted. Prospect information will NEVER be shared outside the company with any third parties for any purpose. Prospects also have the same level of choice regarding marketing (at least at the time of first contact) as other individuals who actually visit our website. We do not currently market to prospects other than as discussed above.
Access to Information
If at any time you change your mind and would like to add or remove your name from a Health Foundations mailing list, or would like to review or correct your personal information, please email us your requested change at HF mail list. In order for you to gain access to any sensitive information like credit card information, you will be required to provide unique, identifying information that will assure that you are in fact the person whose information you are requesting.
No Release of Information to Third Parties

Personal information will not be released to third parties for any reason. There are no other circumstances under which we will provide or sell personal information to third parties.
No Computer Tracking of Identifiable Information

Our computer is not set up to track, collect or distribute personal information about its visitors. It does recognize the home server of visitors, but not e-mail addresses. For example, we can tell which Internet Service Provider our visitors use, but not the names, addresses or other information about our visitors that would allow us to identify the particular visitors to our sites. This information is used only for internal purposes by our staff.
In addition, our web sites track information about the visits to our web sites. For example, we compile statistics that show the daily number of visitors to our sites, the daily requests we receive for particular files on our web sites, what search site visitors come from, what search terms are used, and what countries those requests come from. These aggregated statistics are used internally to better provide services to the public and may also be provided to others, but again, the statistics contain no personal information and cannot be used to gather such information. Some of this information is collected by our host server, and other may be collected by the use of third party tracking software. Any information collected by third party software is password protected on their server and no other party has access to it.
BBBOnline® Privacy Program
We also participate in the Council of Better Business Bureauus' BBBOnLine Privacy Program, and comply with all the BBBOnLine Privacy standards. Further information about this program is available at http://www.bbbonline.org.
If you have any questions or comments about Healthy Foundations' privacy policy, please send us your thoughts on our comment form.
---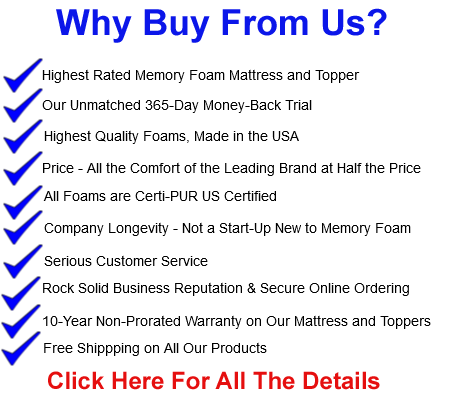 ---
What People Are Saying About Our Memory Foam Mattresses And Toppers:
---
"It's even better than we expected"
"My husband and I are thrilled with our Healthy Foundations mattress. We have had it through the winter and summer and find it perfectly comfortable in both hot and cold weather. We were afraid that the memory foam would be warm in the summer but that hasn't been the case at all. My husband has had severe back problems, to the extent that he was seeing a pain doctor and having back injections. I have suffered with hip pain for almost two years. My husband recently commented that he hasn't had back pain since we got our new mattress. My hip pain has also improved greatly. We are both so happy we found Healthy Foundation because we were not willing to pay the price to get a Tempur-pedic or Sleep Number Bed. We couldn't be happier with our decision."
Rose, Neenah, WI
August 5, 2015


---
"Superior To The Tempurpedic"
"We slept on a Tempurpedic mattress for years but were put off by the price it came time to replace it. The Memory Foam web presentation was informative and persuasive, so we switched. We've had the Memory Foam for three or four months, and it is superior to the Tempurpedic."
Craig, Cornwall Bridge, CT
August 8, 2015


---
"No more Back Pain!"
"We are very happy with our Healthy Foundations Mattress. We have tried several mattresses and this is the only one that eliminated waking up with a stiff/sore back or sore arms. Great purchase!"
Sleeping Well, MD
July 7, 2015


---
"I Love My Topper."
"I love the way it turned my too hard mattress into a comfortable place to be. For me it is especially helpful for joint areas. I couldn't live without it."
Dixie, Austin, TX
February 5, 2015