The Healthy Foundations 10" Memory Foam Mattress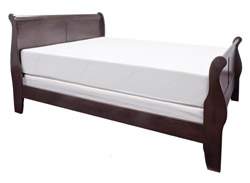 All The Comfort of The Leading Memory Foam Mattress
- At About 1/2 The Price*
Hard to believe? You don't have to believe us -- we spent six months testing 6 different memory foam mattresses with 300 real customers in order to find the one that really offered comparable comfort to the leading brand, but at about 1/2 the price.
Here's how our 10" Memory Foam Mattress stacked up in our tester's reviews:
We are so sure that this will give you the relief from aches and pains, back pain in the morning, and tossing and turning that robs you of restful sleep that we are offering an unprecedented 365 day return policy on the mattress. So you can try for yourself for up to a full year to see if the mattress helps you rest better and feel rejuvenated in the morning. For more information, see The Healthy Foundations Memory Foam Mattress page.
---
Bring Your Old Mattress Back To Life
At A Fraction Of The Cost Of A New Mattress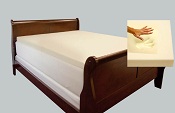 Our current line of Memory Foam Mattress Toppers is the most comfortable toppers we've ever offered.
The toppers use the same 4 lb memory foam material used as the top layer in our 10" Memory Foam Mattress. This memory foam is made by a small boutique foam manufacturer, and it has gotten great reviews for comfort from our mattress customers.