Our Unmatched 365-Day Money-Back Guarantee
Our mattresses and topper pads all come with a 365-day money-back trial. If for any reason you are dissatisfied, you can return them within 365-days - no questions asked - and get a refund on your purchase. Really. Our A+ rating by the BBB and 5 Star Trusted Store Status by Ebay Commerce Network testifies to the fact that we honor our return policy. Believe me, if we weren't taking care of people, you'd see it in a minute on both these ratings. Our unblemished record shows our committment to honoring our return policy and our taking care of customers.
The only cost on a return is our $75 return fee on our mattresses or the return shipping cost to return one of our topper pads.
And in fact most people don't pay any return fee at all since we also allow for the mattresses and toppers to be donated to a local charity rather than having us pick up the mattress or you send back the topper. And when people do chose to make this local donation to a charity, we waive the return fee (and you don't have to pay for any return shipping on the toppers since you don't send them back in these cases).
I do get asked a fair amount, though, that while people are really amazed we offer a 365-day money-back trial on our Memory Foam Mattress, wouldn't a return of our mattress be a real hassle? They wonder -- "how in the world would they somehow get it folded up again and ship it back to them?".
But don't worry, unlike other internet dealers, we don't ask that you find a box and somehow figure out a way to ship it back to us. The return is actually very simple -- we use a national pickup service that will pick the mattress up right at your door. And the only charge for this return is the $75 return fee -- after any return pickup, we then refund your full purchase price less only the $75 (there is no restocking fee or other add on fees that you often only find out about later -- the $75 fee is it!).
Most people, though, take advantage of our option of allowing people to donate a return to a local charity. And in this case, we waive the return fee (or you forgoe the return shipping fee on a topper). To find out more about this option if you have a return, just contact us and we will send you all the details on how to do this charitable donation.
"I got a prompt reply about how to handle the return and they really couldn't have made it easier."
"We are delighted to give Healthy Foundations an excellent review even though we have returned our mattress and received our refund within a week of submitting our request for refund. We had purchased a memory foam mattress for our cottage. I loved it, but my husband didn't really like it from the beginning. So it is ironic that I convinced him to buy a memory foam mattress for our house. Like a good sport he tried it for 7 months and never came to like it better than the cottage mattress. My husband is just not a memory foam fan. Personally, I loved our Healthy Foundation mattress, but wanted us both happy so returned it. I can honestly say that healthy Foundation was a pleasure to work with from beginning to end. It is refreshing to find a company with such integrity. If you are a memory foam mattress fan, I would highly recommend doing business with Healthy Foundations." -
by Jackie & Nik, BBB Review
October 1, 2014
---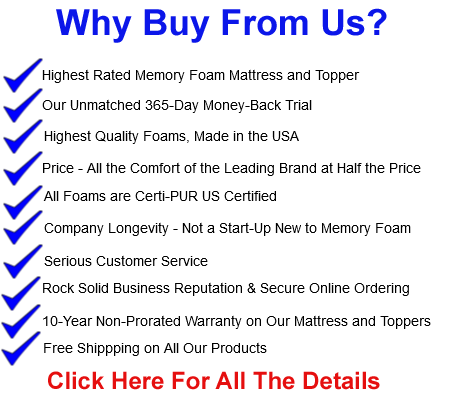 ---
What People Are Saying About Our Memory Foam Mattresses And Toppers:
---
"It's even better than we expected"
"My husband and I are thrilled with our Healthy Foundations mattress. We have had it through the winter and summer and find it perfectly comfortable in both hot and cold weather. We were afraid that the memory foam would be warm in the summer but that hasn't been the case at all. My husband has had severe back problems, to the extent that he was seeing a pain doctor and having back injections. I have suffered with hip pain for almost two years. My husband recently commented that he hasn't had back pain since we got our new mattress. My hip pain has also improved greatly. We are both so happy we found Healthy Foundation because we were not willing to pay the price to get a Tempur-pedic or Sleep Number Bed. We couldn't be happier with our decision."
Rose, Neenah, WI
August 5, 2015


---
"Superior To The Tempurpedic"
"We slept on a Tempurpedic mattress for years but were put off by the price it came time to replace it. The Memory Foam web presentation was informative and persuasive, so we switched. We've had the Memory Foam for three or four months, and it is superior to the Tempurpedic."
Craig, Cornwall Bridge, CT
August 8, 2015


---
"No more Back Pain!"
"We are very happy with our Healthy Foundations Mattress. We have tried several mattresses and this is the only one that eliminated waking up with a stiff/sore back or sore arms. Great purchase!"
Sleeping Well, MD
July 7, 2015


---
"I Love My Topper."
"I love the way it turned my too hard mattress into a comfortable place to be. For me it is especially helpful for joint areas. I couldn't live without it."
Dixie, Austin, TX
February 5, 2015