Advantages of Buying from Healthy Foundations
Hi, I'm David Rosenberg, founder of Healthy Foundations, and as an online retailer specializing on memory foam products, I can offer those interested in a memory foam mattress or topper a number of real advantages:
1. Highest Rated Memory Foam Mattress And Toppers
-- With 96% Of Our Mattress Reviewers, And 98% Of Our Topper Reviewers,
Saying They Would Recommend Our Products To A Friend.
I've spent years testing out different memory foams trying to find the ones that offer the most comfort and durability.
And I've learned that while many memory foams seem similar in initial feel, and in their specs (their density and firmness ratings), in real world tests with people in their homes, these memory foams can get very different ratings for comfort.
I go into our mattress test of 6 different memory foam mattresses (all having very similar product specification), with over 300 testers, in detail on our 10" Memory Foam Mattress page. But what was striking was that the highest rated memory foam mattress (which is the one we now offer) got ratings 25% higher for comfort and its return rate was a fraction of that of others.
And since this initial test, I've asked our customers to post their reviews of our memory foam mattress and toppers so it is absolutely transparent as to what people think of our products.
And the result?
With over 400 reviews of our 10" Memory Foam Mattress, 96% say they would recommend it to a friend. And 98% of our 100+ reviewers of our Memory Foam Topper Pads say they would recommend them to a friend.
In contrast, the site SleepLikeTheDead.com has analyzed thousands of online mattress reviews, and found that only 63% of innerspring mattress owners are satisfied, and while memory foam mattresses did get the highest overall satisfaction rating, it was just 81% (with the "leading brand" getting an 80% satisfaction rating).
Why are our ratings so much higher?
I really believe it is our committment to testing to find the most comfortable memory foam rather than selling the least expensive or the one with the most recognizable brand.
That is the reason we get the highest ratings for our memory foam products, and also the reason I feel comfortable standing behind them with our ....
2. Our Unmatched 365-Day Money-Back Trial
I believe in our 10" Memory Foam Mattress and Topper Pads so much that I offer an industry best, unconditional, 365-day money-back guarantee on all our products.
I think it's important for you to be able to see for yourself, at no risk, whether they work for your body and help with your aches and pains.
My guarantee makes buying close to pain free - the only expense you would have on returning the product is a $75 return fee on the mattress, and return shipping on the topper pads.
And in fact, most people avoid these charges by donating a return to a local charity (we waive the return fees if the return is donated).
We don't have any "gotchas" either like some other retailers (expensive return fees, requiring that the return be in "like new" condition, etc).
And our A+ rating with the BBB after over 13 years shows we do really make good on our money-back trial.
Another way I try to make things simple and so you know you won't get caught with any surprise fees or upcharges, is by offering...
3. The Highest Quality Memory Foam, Made In The USA
Our memory foam we use in our mattress and toppers isn't ordinary memory foam. Instead, it is made in small batches by a boutique foam manufacturer specializingin memory foam. This new generation memory foam has an open cell structure designed to improve air flow by 95% and to dissipate heat and moisture three times faster than ordinary memory foam.
And while this special type of memory foam is more expensive than standard memory foam options, we won't compromise on the comfort of our products by using lesser quality memory foams just to keep the price down.
4. All Foams Used In Our Bed Are Certipur-US ® Certified
Unlike cheaper domestic or foreign foams (Chinese foams often found in less expensive memory foam beds), all the foams used in our mattress are tested and Certipur-US ® Certified to be made: without ozone depleters, without PBDE flame retardants, without mercury, lead and other heavy metals, without formaldehyde, without phthalates regulated by the Consumer Product Safety Commission, and are low VOC (Volatile Organic Compound) emissions for indoor air quality (less than 0.5 parts per million).
5. Proven Durability And Real Warranty Coverage
After 5 years and thousands of mattresses sold, less than 1/2 of 1% have had any warranty issue, and the manufacturer has taken care of every one of the few warranty claims that has arisen-- an amazing record in the industry.
6. With Low Overhead And Selling Direct To The Consumer, We Can Keep The Price At About 1/2 The Price Of The "Leading Brand", But Exceed It In Both Quality And Comfort
I don't have the overhead of the "leading brand". Last I checked, they spent over 200 million a year in advertising alone.
And by selling direct to consumers through our internet site, we've cut out retailers and their extra fees.
Because I don't have this sort of overhead and fees, I can offer our 10" Memory Foam Mattress and Topper Pads at about half the price of comparable quality offerings of the "leading brand."
And as I noted above, based on reviews, ours gets much higher overall ratings than the "leading brand."
I believe with our lower price and higher comfort ratings, our memory foam mattress and topper pads really are the best overall deal for memory foam on the market.
7. Fast and Free Shipping On All Our Products And No Tax Unless A Colorado Order
I hate it when I try to buy something and at the end of the process I get stuck somehow with extra fees for shipping and handling.
And this happens all the time with mattresses especially since they are so heavy and bulky to ship.
But you don't have to worry about that with us -- all our products, our mattress and toppers, come with free shipping.
And this is even true on a return -- we return your full purchase price, there is no deduction for the initial shipping.
Shipping is through FedEx ground, and it works well since you can track your mattress or topper pad from the initial shipment right to your door.
And our shipping is quick -- mattresses and toppers are typically in stock and ship fast after your order is placed (within 2-3 business days).
And you won't pay any sales tax unless the order is from Colorado.
8. Serious Customer Service
Since all we do is memory foam, we offer customers a number of customer service advantages over other companies that sell all sorts of products.
First, after dealing with these products since 1994, we have an intimate knowledge of how they work and can help to answer your questions on these products.
That is why, unlike some others that offer just a few lines of information about their products, I go into such detail on our 10" Memory Foam Mattress and Topper Pad pages.
In addition, since I know that these are significant purchases for most people, and folks often have lots of questions on them, I've put together the most extensive list of FAQs on memory foam you can find anywhere.
In our 50+ Memory Foam FAQs, you will find answers to all the questions you might have -- from whether our memory foam mattress sleeps hot, to details on our return and shipping.
Second we know that you want your memory foam mattress or topper pad as soon as possible so we work hard to get your order out in the next 2 - 3 business days after you order.
Third, when you order from Healthy Foundations we take your order, track it, and are accountable for the order every step of the way. So if you have questions about your order, you only have to email us (see our Contact us page for our email address or contact form) and you will have our immediate attention. Or just give us a call toll-free at 1-800-607-0340 -- we offer live phone support Mon - Fri, 9:30 a.m. to 4 p.m., EST.
Finally, you can continue to call us toll free at anytime if you have questions about your product or any customer service concerns. We will make sure that any questions or concerns you may have will be handled promptly and thoroughly until you are satisfied.
9. Rock Solid Business Reputation and Secure Online Ordering
We were founded in 1994 and have been selling memory foam online directly to the public since 1998. We are not an "infant start-up" jumping into the memory foam game with less than a year in business or a "toddler" with less than five years. Will those companies be in business years down the road if you have a problem with your mattress? We will.
And while it remains to be seen what sort of customer service these other companies will be able to provide over time, our record is already long and distinguished.
Finally, we take your shopping security seriously and have taken numerous precautions to make sure that our sites' online shopping is safe and secure.
To ensure the safety of your personal and credit card information, our shopping cart is VeriSign Secured, SSL Secure Server and in addition also automatically encrypts all credit card numbers in our database. This means that when you place your order through our online store, the transaction is happening on a secure socket layer connection that encrypts the information being sent to and from your browser to our store. In addition, though, our secure store also takes the further step of encrypting all credit card information in the store's database. You would be surprised how many online shopping carts don't do this and simply store credit card numbers without any encryption precautions.
To further ensure that our Shopping Cart is absolutely safe from Hackers and that your private information is completely secure, the Shopping Cart verified to be SSL secure and all communications encryptedis by Norton Secured.
As a result of these security measures, we've never had any report of any security issues or any customers' credit card number ever being compromised.
7. 10-Year manufacturers' Warranty On Our 10" Memory Foam Mattress And Topper Pads
In addition to our 365-day money back guarantee, I also wanted to make sure that our products are backed up with a great warranty that the manufacturer actually stands behind.
All too often in the mattress industry, the warranties sound too good to be true -- and often are not worth the paper they are written on.
I wanted our warranty to be different -- cover the reasonable useful life of our products, and really give coverage if there is a problem.
So our warranty doesn't specify a certain amount of indentation, say 1.5", before a mattress will be covered for warranty replacement like most others do.
Instead, our warranty is very broad and meant to cover any significant issue that may come up with the mattress.
And while these sort of warranty issues don't happen very often -- I can literally count the number that have occurred on two hands after thousands sold -- I am proud that working with our manufacturer we've handled every one so far to resolve the issue to the satisfaction of the customer.
---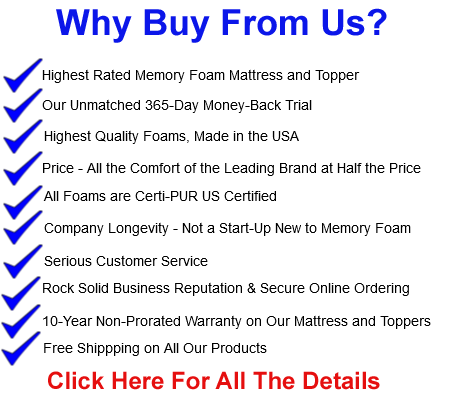 ---
What People Are Saying About Our Memory Foam Mattresses And Toppers:
---
"It's even better than we expected"
"My husband and I are thrilled with our Healthy Foundations mattress. We have had it through the winter and summer and find it perfectly comfortable in both hot and cold weather. We were afraid that the memory foam would be warm in the summer but that hasn't been the case at all. My husband has had severe back problems, to the extent that he was seeing a pain doctor and having back injections. I have suffered with hip pain for almost two years. My husband recently commented that he hasn't had back pain since we got our new mattress. My hip pain has also improved greatly. We are both so happy we found Healthy Foundation because we were not willing to pay the price to get a Tempur-pedic or Sleep Number Bed. We couldn't be happier with our decision."
Rose, Neenah, WI
August 5, 2015


---
"Superior To The Tempurpedic"
"We slept on a Tempurpedic mattress for years but were put off by the price it came time to replace it. The Memory Foam web presentation was informative and persuasive, so we switched. We've had the Memory Foam for three or four months, and it is superior to the Tempurpedic."
Craig, Cornwall Bridge, CT
August 8, 2015


---
"No more Back Pain!"
"We are very happy with our Healthy Foundations Mattress. We have tried several mattresses and this is the only one that eliminated waking up with a stiff/sore back or sore arms. Great purchase!"
Sleeping Well, MD
July 7, 2015


---
"I Love My Topper."
"I love the way it turned my too hard mattress into a comfortable place to be. For me it is especially helpful for joint areas. I couldn't live without it."
Dixie, Austin, TX
February 5, 2015