FAQs On Our Memory Foam Mattress Topper Pads
The Healthy Foundations Topper Pad: all you ever wanted to know and more.
Back to main FAQ directory page
---
---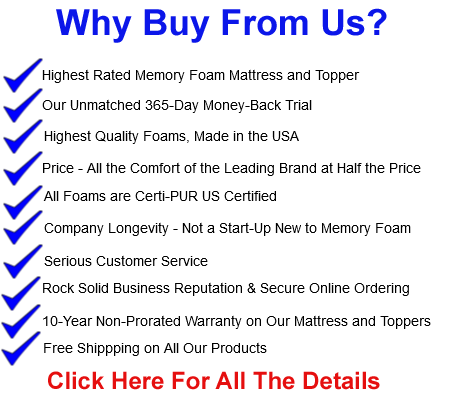 ---
What People Are Saying About Our Memory Foam Mattresses And Toppers:
---
"It's even better than we expected"
"My husband and I are thrilled with our Healthy Foundations mattress. We have had it through the winter and summer and find it perfectly comfortable in both hot and cold weather. We were afraid that the memory foam would be warm in the summer but that hasn't been the case at all. My husband has had severe back problems, to the extent that he was seeing a pain doctor and having back injections. I have suffered with hip pain for almost two years. My husband recently commented that he hasn't had back pain since we got our new mattress. My hip pain has also improved greatly. We are both so happy we found Healthy Foundation because we were not willing to pay the price to get a Tempur-pedic or Sleep Number Bed. We couldn't be happier with our decision."
Rose, Neenah, WI
August 5, 2015


---
"Superior To The Tempurpedic"
"We slept on a Tempurpedic mattress for years but were put off by the price it came time to replace it. The Memory Foam web presentation was informative and persuasive, so we switched. We've had the Memory Foam for three or four months, and it is superior to the Tempurpedic."
Craig, Cornwall Bridge, CT
August 8, 2015


---
"No more Back Pain!"
"We are very happy with our Healthy Foundations Mattress. We have tried several mattresses and this is the only one that eliminated waking up with a stiff/sore back or sore arms. Great purchase!"
Sleeping Well, MD
July 7, 2015


---
"I Love My Topper."
"I love the way it turned my too hard mattress into a comfortable place to be. For me it is especially helpful for joint areas. I couldn't live without it."
Dixie, Austin, TX
February 5, 2015