FAQs on Shipping, Warranty, and Guarantee Questions For Our Topper Pads.
For shipping and warranty information on our Memory Foam Mattresses, please see our Warranty and Shipping page.
Back to main FAQ directory page
1. How do I get the free shipping within the Continental US?
Our free shipping offer on all our topper pads and pillows is for orders placed on the Internet site.

We no longer ship to APO addresses due to unforseen increases in shipping costs.

Click Here to Go to Our Topper Pad Information and Ordering Page
2. What is the shipping charges to Hawaii and Alaska?
We do not currently ship our topper pads or pillows to Hawaii and Alaska.
Click Here to Go to Our Topper Pad Information and Ordering Page
3. How long does it take for delivery for the topper pads?
After being shipped (pads generally ship 2 - 3 after your order is received), the topper pads take 1- 2 shipping days to reach West Coast addresses, 3 - 4 to the Midwest, and 5 - 6 days to those on the East Coast. See our FedEx Ground time-in-transit map to see how many days it takes, once your order is shipped, to get to your destination. Once your order is shipped, you will receive an email from FedEx telling you the tracking number, the date shipped, the date delivery is expected, etc. Due to the heavy weight of the pads, sending them overnight is really much too expensive (another $100 or so).

Click Here to Go to Our Topper Pad Information and Ordering Page



4. Is there a money-back guarantee, and what is the products manufacturers warranty?
Yes, our topper pads come with a 365-day money-back guarantee. If for any reason you are dissatisfied, you can return the topper within 365-days - no questions asked. All you pay is the return shipping (we refund the purchase price and the original shipping you paid for the product).

In addition, the topper pads and pillows also come with a 10-yearmanufacturer's warranty against defects in materials and workmanship. A memory foam pad will soften a bit over its life, and this is not covered by the warranty. Typically, the type of defect covered by the warranty is that the pad becomes compressed in some area (stays compressed and doesn't recover).

What has been my warranty experience with the pads? I have had very few warranty issues come up (less than 1%). But those that did occur typically came up within a short time of purchasing. It seems to me that from time to time there is a bad lot, and that within a short time the foam from this lot will begin to compress and not spring back after use. If your pad does seem defective, we would ask that the pad be sent in so we can confirm the defect. But after it is confirmed, we will send you out a new pad at no cost.

Click Here to Go to Our Topper Pad Information and Ordering Page




5. Do we ship the topper pads to Canada?
We don't currently ship the topper pads to Canada. Some Canadians have shipped the pads to nearby U.S. cities and picked the pads up from relatives or friends, or from the FedEx depot in that city.
Click Here to Go to Our Topper Pad Information and Ordering Page

6. If I return the pad, do I pay for return shipping?
Yes, you would pay for return shipping. On receipt of the returned pad we will refund the original purchase price plus your initial shipping cost. So, your only expense will be the return shipping.
Click Here to Go to Our Topper Pad Information and Ordering Page

---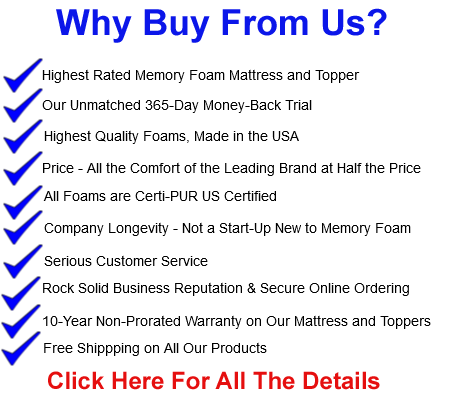 ---
What People Are Saying About Our Memory Foam Mattresses And Toppers:
---
"It's even better than we expected"
"My husband and I are thrilled with our Healthy Foundations mattress. We have had it through the winter and summer and find it perfectly comfortable in both hot and cold weather. We were afraid that the memory foam would be warm in the summer but that hasn't been the case at all. My husband has had severe back problems, to the extent that he was seeing a pain doctor and having back injections. I have suffered with hip pain for almost two years. My husband recently commented that he hasn't had back pain since we got our new mattress. My hip pain has also improved greatly. We are both so happy we found Healthy Foundation because we were not willing to pay the price to get a Tempur-pedic or Sleep Number Bed. We couldn't be happier with our decision."
Rose, Neenah, WI
August 5, 2015


---
"Superior To The Tempurpedic"
"We slept on a Tempurpedic mattress for years but were put off by the price it came time to replace it. The Memory Foam web presentation was informative and persuasive, so we switched. We've had the Memory Foam for three or four months, and it is superior to the Tempurpedic."
Craig, Cornwall Bridge, CT
August 8, 2015


---
"No more Back Pain!"
"We are very happy with our Healthy Foundations Mattress. We have tried several mattresses and this is the only one that eliminated waking up with a stiff/sore back or sore arms. Great purchase!"
Sleeping Well, MD
July 7, 2015


---
"I Love My Topper."
"I love the way it turned my too hard mattress into a comfortable place to be. For me it is especially helpful for joint areas. I couldn't live without it."
Dixie, Austin, TX
February 5, 2015