FAQs: Some General Questions We Get
Back to main FAQ directory page
1. If I ordered today, when would my product(s) ship?
We pick up our order everyday through our online store. I typically do it in the morning , so if you place an order during the day I will get those orders into the warehouse the next morning (the next business day morning. So an order on Friday, Sat, or Sun gets into the warehouse on Monday).
The orders then will typically ship out that day (so the next business day after you place the order), or if there was a lot of orders for that day an order may not ship till the next day.
The toppers and mattresses both ship from Georgia, and you will get the FedEx tracking information later in the day when they ship out. If you don't see the tracking information, please check your junk or spam mail folders. Once in awhile, they get filtered and end up in these folders.
If you've ordered a Protect-a-bed cover for either one of those, it will be included in the package with the topper or mattress. If you don't see it, check the bottom of the package. A couple of people did find that the covers were kind of hidden at the bottom of their package.
One of the things I think people have concerns about is our 365-day money-back guarantee - Is it too good to be true?
Well it's just, I think people look at it the wrong way. It's a business proposition. I do it because I want to take care of people but I also know people need to feel some confidence that they're not going to be stuck with something or they won't even try it to begin with.
So, we do take care of people. If it didn't work out then I couldn't stay in business. But it works out because we have really good products and I have a lot of information on the site that helps people decide if it will work for them.
So, yes we do take care of people and honor our 365-day money-back trial. If I didn't take care of people, If I didn't refund people and gave them a hard time or made it difficult, it would show up immediately in the reviews. It just would be that easy and it would be right on our page, you could see. Our A+ BBB rating and 5 star Shopping.com ratings instead show clearly we do honor our return policy.
And in terms of the warranty issues. One of the things I've talked to our manufacturer about is how important it is that we take care of any real problems that arise. I'm a good customer for them, they want my business, so at this point in time we, any warranty issues that have ever come up, - and we haven't had that many - they care of them, and they take care of them fast.
This is very different than what people at times write about their warranty experiences with other mattress manufacturers. And it is one of the reasons I like working with this particular manufacturer - they do honor the warranty, and don't turn down warranty claims as a matter of course.
A few people have questioned why the mattress warranty isn't more specific, why it doesn't define the exact amount of indention that would trigger a warranty claim. And this was purposeful on my part. I've found that defining the amount of indention is a way to turn minimize warranty claims used by some companies. That is, they won't honor a warranty unless you meet the minimum indention required, and so even if you have over an inch of indention, you don't qualify if they require 1.25 inches.
I think this isn't right, so I have kept the warranty purposefully vague to allow for replacement whenever there seems an actual issue with the integrity of the foam, and not turn down people for not having an arbitrary amount of compression.
An other question I get is whether we will be around to take care of our money-back trial and warranty issues.
I've been selling memory foam since '94, and selling on the internet in '98. So it's been a long time, it's amazing. It is my intention is to stick around. I think worst case would be somebody else might buy me out some day and I go off in retirement.
Still the business will be around to take care of people. And our manufacturer is a large fabricator that has even put aside money in escrow to cover any warranty issues, just to make sure that my customers are covered regardless of what happens.
So that's my answer in terms of who we are and our longevity, and I encourage you to check us out. Look at our report and rating with the BBB, check out our customer's reviews on Shopping.com, and look for other information out there on the web and see if we are who we say we are.
That is one of the things I do love about doing business on the web. Unlike traditional mattress retailers, we are completely transparent, so check us out - I think if you do, you will see that we try to do business in a way that is very customer oriented and we do whatever we can to make sure that you are taken care of.
Click Here to Go to Our The Healthy Foundations Products/Ordering Page
3. Do you offer any financing?
I get this question a fair amount.
I know the mattress is a substantial purchase and some people want some financing options.
And to help those out who are looking for financing, we've put in a PayPal payment option where you can choose to pay with PayPal credit -- which offers 6 months to pay on purchases over $99 (if you pay within 6 months, you pay no interest charges).
Click on the image below to find out more information about PayPal Credit and the details of their offer.
Click Here to Go to Our The Healthy Foundations Products/Ordering Page
4. Do you offer any discounts or coupons?
Do we offer any discounts, coupons, et cetera?
You know I understand why we get calls on this and it's a tough economy. I would call on this sort of purchase as well.
I don't offer any discounts, I'm sorry. Or coupons. In fact I don't know if we've ever done coupons and the only discounts I can remember if there was a special issue from the manufacturer and they wanted to move something. I'd help them.
But the bottom line is I just hate that whole you know we're having a sale and we raise the price just to have a sale kind of thing. I know it works for retailers; I just don't want to do it.
What I would rather do is offer my best price, whatever that is, every day to everybody.
I don't want one person to feel like they didn't get the same good price as somebody else.
And so I like to be fair across the board, to give the same price, and keep it as low as possible. And offer our best offer right up front - the quality of our mattresses that are responsible for 96% of our reviewers saying they would recommend our mattress to a friend, along with free shipping on all our products and our unmatched 1 year money-back trial (that we do back up, with no strings attached or gotchas).
Over the years, I've had quite a few price increases from the manufacturer. Since 2008, we've literally gotten 10 - 15% price increases every year. And yet I've often not raised prices and instead absorbed these cost increases.
That may change so don't hold me to that. But I'm just saying what I'm trying to do is absorb some of those costs to keep your price down as best as I can until I'm forced to go up higher.
So, that's my strategy. I'm trying to do the daily low price and give everybody the same fair shake.
Click Here to Go to Our The Healthy Foundations Products/Ordering Page
---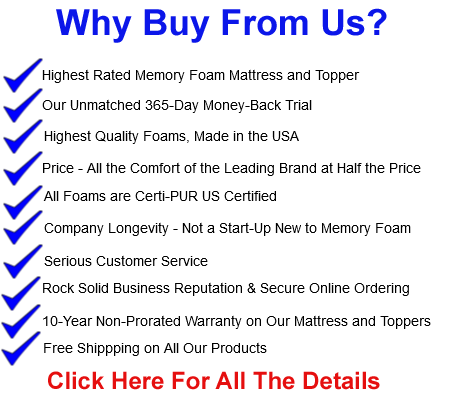 ---
What People Are Saying About Our Memory Foam Mattresses And Toppers:
---
"It's even better than we expected"
"My husband and I are thrilled with our Healthy Foundations mattress. We have had it through the winter and summer and find it perfectly comfortable in both hot and cold weather. We were afraid that the memory foam would be warm in the summer but that hasn't been the case at all. My husband has had severe back problems, to the extent that he was seeing a pain doctor and having back injections. I have suffered with hip pain for almost two years. My husband recently commented that he hasn't had back pain since we got our new mattress. My hip pain has also improved greatly. We are both so happy we found Healthy Foundation because we were not willing to pay the price to get a Tempur-pedic or Sleep Number Bed. We couldn't be happier with our decision."
Rose, Neenah, WI
August 5, 2015


---
"Superior To The Tempurpedic"
"We slept on a Tempurpedic mattress for years but were put off by the price it came time to replace it. The Memory Foam web presentation was informative and persuasive, so we switched. We've had the Memory Foam for three or four months, and it is superior to the Tempurpedic."
Craig, Cornwall Bridge, CT
August 8, 2015


---
"No more Back Pain!"
"We are very happy with our Healthy Foundations Mattress. We have tried several mattresses and this is the only one that eliminated waking up with a stiff/sore back or sore arms. Great purchase!"
Sleeping Well, MD
July 7, 2015


---
"I Love My Topper."
"I love the way it turned my too hard mattress into a comfortable place to be. For me it is especially helpful for joint areas. I couldn't live without it."
Dixie, Austin, TX
February 5, 2015