We're Very Proud To Have Earned BBB's A+ Rating Along With Their Gold Star Award, As Well As Shopping.com's Trusted Store Status, With 99% of The 850+ Reviewers Saying They Would Buy Our Store Again.
And Our Memory Foam Mattress And Topper Pads Get Amazing Customer Reviews -- With 96% Of Our Mattress Customer Saying They Would Recommend It To A Friend, and 98% Of Our Topper Customers Recommending It.
We feel strongly that online businesses need to be held accountable for their products and service, and that is why we joined the BBB in 2001 as well as signed up for the Shopping.com Store Review Program way back in 2004, when another customer ratings site we had used for years went out of business.
Over the years, we've consistently been given an A+ rating by the BBB, and for many years now have also been awarded the BBB's Gold Star Award.
As for Shopping.com, when we started with their review program back in 2004 it was the biggest player in the field, and offered a great third party place for our customers to put up their reviews of our site and business.
Unfortunately, in the spring of 2014, Shopping.com, now owned by Ebay, decided to discontinue the user review part of their site and instead now only serves as a shopping search/merchant advertising site.
But since we know it is still important to our customers to be able to read these reviews to assess the credibility of our business, you can still read at this time all 850+ as Shopping.com still at this time does show them -- Click here to read the 850+ Shopping.com reviews for Healthy Foundations from 2004 - 2014.
We are proud that in the 10 years that customers posted reviews of us on Shopping.com, that we accrued a 4 1/2 star overall rating (out of 5), with 99% of our 850+ reviewers saying they would buy from us again. Our overall ratins were so positive that Healthy Foundations was awarded Shopping.com's Trusted Store seal, something very few stores were awarded.
Since Shopping.com stopped accepting new reviews in 2014, we've been looking at new third party options for customers to place their reviews of our business, and for now we are directing them to our BBB page since the BBB has recently put up the option for customers to leave reviews about a business. So far, only a few people have posted reviews on our BBB page, but you can find them hear -- Click here to read customer reviews of Healthy Foundations on the BBB Healthy Foundations page (just click on the Customer Review tab to see the review summary, and then on the reviews link to read the actual reviews)..
In our customers have posted over 400 reviews posted of our 10" Memory Foam Mattress on our Memory Foam Mattress page, with 96% of the reviewes saying they would recommend our memory foam mattress to a friend, as well as over 100 reviews of our Memory Foam Toppers on our Topper page with 98% saying they would recommend our topper pads.
While these reviews are on these product pages, I've posted the 10" Memmory Foam Mattress reviews for you below so you don't have to search for them.
To see the topper reviews, you will find them on the Topper page - Click Here to see the Topper Reviews. (We can't display the topper reviews on this page since the review software can only correctly display one set of reviews on a page, and so we could only display the mattress reviews on this page).
Reviews for the Healthy Foundations Memory Foam Mattress
---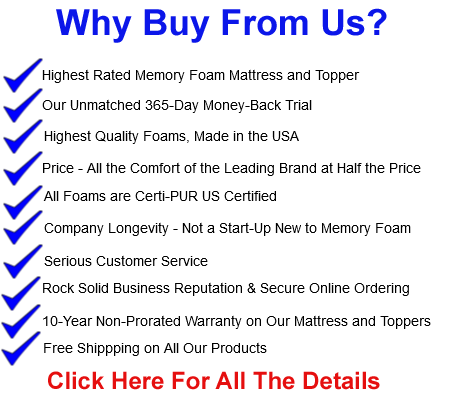 ---
What People Are Saying About Our Memory Foam Mattresses And Toppers:
---
"It's even better than we expected"
"My husband and I are thrilled with our Healthy Foundations mattress. We have had it through the winter and summer and find it perfectly comfortable in both hot and cold weather. We were afraid that the memory foam would be warm in the summer but that hasn't been the case at all. My husband has had severe back problems, to the extent that he was seeing a pain doctor and having back injections. I have suffered with hip pain for almost two years. My husband recently commented that he hasn't had back pain since we got our new mattress. My hip pain has also improved greatly. We are both so happy we found Healthy Foundation because we were not willing to pay the price to get a Tempur-pedic or Sleep Number Bed. We couldn't be happier with our decision."
Rose, Neenah, WI
August 5, 2015


---
"Superior To The Tempurpedic"
"We slept on a Tempurpedic mattress for years but were put off by the price it came time to replace it. The Memory Foam web presentation was informative and persuasive, so we switched. We've had the Memory Foam for three or four months, and it is superior to the Tempurpedic."
Craig, Cornwall Bridge, CT
August 8, 2015


---
"No more Back Pain!"
"We are very happy with our Healthy Foundations Mattress. We have tried several mattresses and this is the only one that eliminated waking up with a stiff/sore back or sore arms. Great purchase!"
Sleeping Well, MD
July 7, 2015


---
"I Love My Topper."
"I love the way it turned my too hard mattress into a comfortable place to be. For me it is especially helpful for joint areas. I couldn't live without it."
Dixie, Austin, TX
February 5, 2015